Well OK, it wasn't actually the actor, but the Danny Thomas party rental truck. It just sounded so much more interesting to say it was Danny Thomas don't you think?
Anyway, here's what happened.
I was driving through the park one day... oh wait, no.. I was driving through the mountains on my way home.
Normally this isn't cause for concern. However, today I was driving my husbands
wife killing contraption
car, which is always a cause for caution when I'm on the roads.
You see, his car is a stick shift.
I do not do the whole clutch, shifting gears thing. They are dangerous devices and should be outlawed!!
Ever since I was 15 and took my first driving lesson in one, I've hated them. The lesson started out innocently enough. In the beginning I did pretty good, tootling around the hills of my neighborhood having a jolly time.
At the end of the lesson however, I needed to make a stop. There I was, the first one stopped at a light to turn left.
3 miles of cars were behind me waiting their turn.
Can you guess what happened?
Yep. I stalled the car. Not once. Not twice. But 5 times! This meant all 3 miles of cars, myself included missed the light 5 times. Much honking and swearing ensued. Needless to say I was traumatized. Beyond repair. I NEVER drove a stick again.
Until ...
I married a man who insists that sticks are the only way to go. Ugh.
He's been very sweet about this phobia of mine, and even tried to teach me again how to drive his car. Which I'm proud to say I'm really good at!
Unless
I need to stop.
Our first year together we took a road trip to Seattle. Since we took his car, he did most of the driving. Well one day in a fit of extreme
insanity
generosity I offered to do some of the driving so he could rest.
At the time it didn't seem like a big deal, as we were driving on a flat road going through some mountain valley.
Well, good things come to an end, and we came upon a little town with one stoplight. Of course the light turned red, just as I approached. And yes I was the first one again, with cars behind me.
Naturally I stalled the car, several times. Once
I stopped crying
we finally got going, I was immediately pulled over by a cop.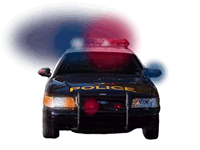 He thought I was drunk! Meekly I explained that no I haven't been drinking kind sir, I just don't know how to drive this F%$#@!* stick shift.
He let me go.
So today I'm driving his car again, because mine, the Black Beast may he rest in peace,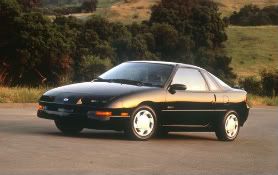 disintegrated while I was driving to the grocery store one day. Poor thing it held on as long as it could. It just gave a final chug as I drove across the intersection and then expired. I'm hoping someday to resurrect him, but until then it's my husbands car for me.
Okay, so I got a little off track, but you needed that background information to understand my fear of the manual transmission right? Just say yes, ok?
Anyhoo, back to Danny Thomas ...
So I'm driving home up the hill, when I approach a line of cars, led by the Danny Thomas Party Rental truck. Judging from the angry noises issuing from under the hood, that perhaps 4th gear may be just a tad high for the slow pace I was now going, I went to shift into 2nd gear. That's when all hell broke loose.
I don't know what the F%$# I did, but one thing I did NOT do was shift into 2nd. Instead, the car started to do the death chug, to combat this, I stepped on gas harder so It wouldn't stall. Uh.. Right..
Now I have to stop here and say, that I was on a hill roughly as steep as Lombard Street in San Francisco. If you are unfamiliar with that particular road, just imagine a street that goes straight up to the sky and that's Lombard.
So here I am fighting with this car to keep going and of course it stalls. Right in the middle of the road!
Naturally I panicked. I restarted and stalled. Restarted and rolled down the hill, then stalled. All the time keeping in mind that at any second a car can come whizzing around the corner as they are wont to do in the mountains, and ram right into me.
Since the hill was so steep, every time I tried again, the car would roll backwards, causing me to panic more. Finally after using the emergency brake and some fancy footwork, after the 4th attempt I got it going and made it home safe and sound.
And thank god, because if I had been hit from behind, Danny Thomas,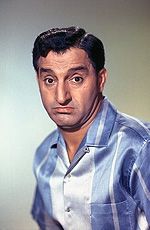 would have
a lot
to answer for!!